Costco is Helping Duke Children's to Change Kids' Health – May 1-31
For 35 years, Costco and its members have joined forces to raise more than $500 million for Children's Miracle Network Hospitals. We know when we help fund medical treatments, equipment and facilities, we ensure children live healthy, fulfilling lives and foster the scientists, inventors, artists and leaders of tomorrow.
During the month of May, you can help to change kids' health for local member children's hospitals! Shop online or in-warehouse at Costco, donate to help kids like our local champion, Jackson. In August of 2012, physicians at Duke Children's diagnosed Jackson with pulmonary arterial hypertension (PAH), a life-threatening and incurable condition. This illness is chronic and progressive, and Jackson regularly visits Duke for lab work, echocardiograms, and other tests. His caregivers at Duke Children's have become like family to Jackson and his family. Now 10, Jackson loves playing Nintendo Switch, cheering on the Carolina Panthers, and being an honorary member of the Duke soccer team! Jackson has a full and joyful life because of the care he receives at Duke.
The Costco fundraising campaign runs through May 31st, and funds go to our local member hospital, Duke Children's, to directly help local kids in our community. Since 1988, Costco employees and members have donated more than $2,277,166.68 for kids treated at Duke Children's!
Today, we are transforming a child's future. Children's hospitals are on the frontlines to provide the treatments and cures patients desperately need, but they can't do it alone. Together, we see what the future can be and we're working to make it a reality. One way you and Costco are helping is by donating at the register to fund the most urgent needs of local children's hospitals.
Through donations collected during the annual campaign, hospitals can provide treatments and healing patients desperately need today so that they can fulfill their potential for tomorrow—ultimately having ripple effects that positively impact our communities and our world for years to come.
With your help, we can change kids' health to change the future!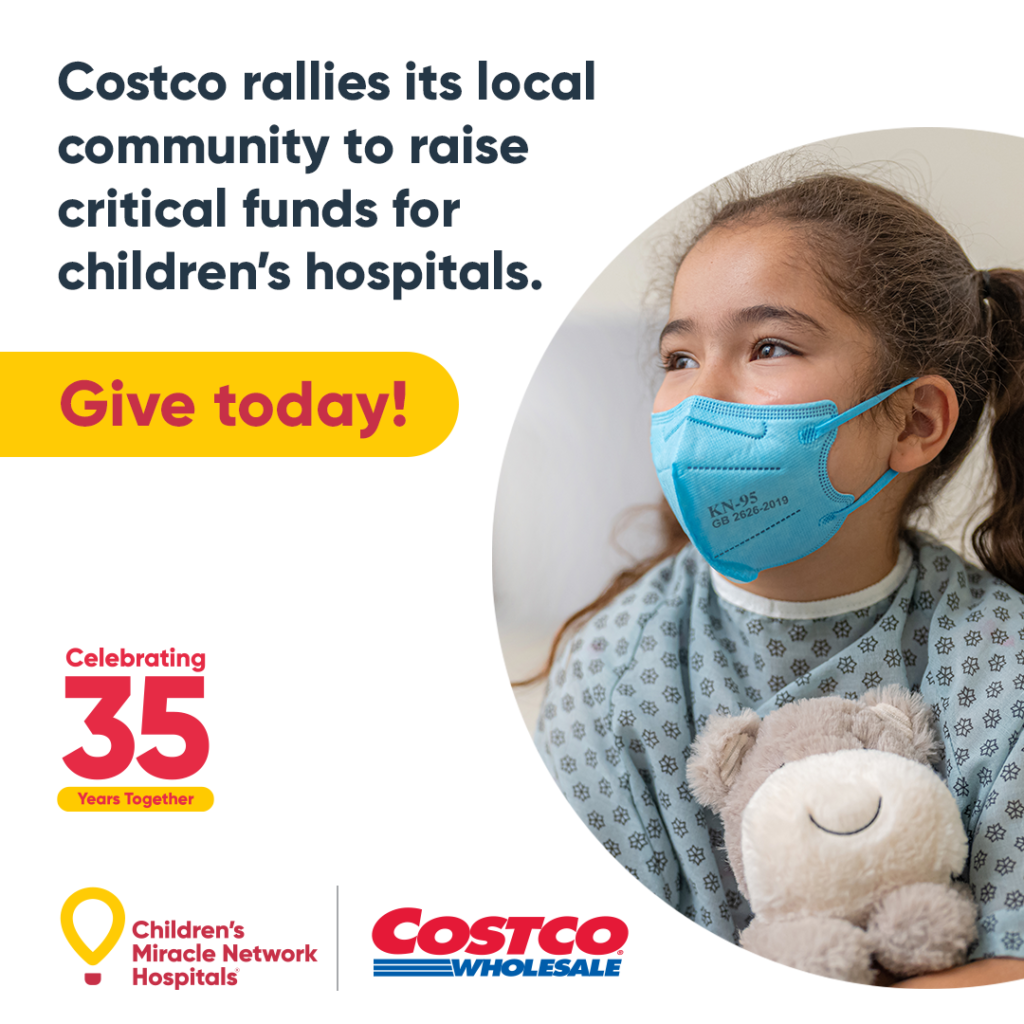 Don't forget to donate at the register when you visit Costco during the month of May! Participating locations benefitting Duke Children's are listed below:
Apex – 1021 Pine Plaza Dr. Apex, NC 27523
Durham – 1510 North Pointe Drive Durham, NC 27705
Garner – 7800 Fayetteville Rd. Raleigh, NC 27603
Greensboro – 4201 West Wendover Ave. Greensboro, NC 27407
Raleigh – 2838 Wake Forest Rd. Raleigh, NC 27609
Wilmington – 5351 Gingerwood Dr. Wilmington, NC 28405
Winston-Salem – 1085 Hanes Mall Boulevard Winston Salem, NC 27103