Publix Campaign Begins June 3 for Duke Children's

June 3 marks the 29th year that Publix stores will raise millions of dollars to support kids treated at their local Children's Miracle Network Hospitals. The #PublixMiracles campaign will run June 3-14. New for the 2020 campaign, Publix will be offering just one coupon sheet, featuring each of these 10 vendors, in exchange for a donation of the customer's choosing.
Mars Petcare
Mars Wrigley
Georgia Pacific (Angel Soft Bath Tissue and Sparkle Paper Towels)
Kellogg's
Frito Lay
Oil Dri (Cat's Pride®)
Coca-Cola
Johnson & Johnson
Red Bull
Miracle coupons will raise critical funds during the annual register campaign for our local children's hospital, Duke Children's. Dollars raised help provide charitable care and funding for research, education and outreach programs.
Funds raised during the campaign go to help kids like Creed.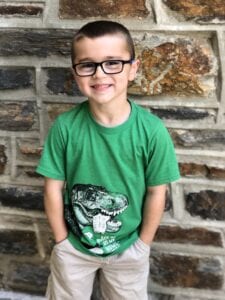 Creed's parents knew that something was wrong when he was a baby. Getting a clear diagnosis was the first challenge, and the answer was devastating: Duchenne muscular dystrophy, an incurable disease that impacts 1 in 4,000 boys. When the hospital that first diagnosed Creed couldn't offer any help, Creed's family looked elsewhere for hope. When neurologist Dr. Eddie Smith told Creed's mom "I can't cure him but let's talk about what I can do for him to help him," she knew she was in the right place: Duke Children's.
Duchenne muscular dystrophy destroys a child's ability to walk and move. Motor skills diminish throughout childhood, and typically this results in losing the ability to walk by age 12.  Duke Children's is home to a comprehensive Duchenne clinic, run by Dr. Smith, which enables these patients and their families to see all their specialists in one visit under one roof to ease the burden on the families.
Creed, now seven, makes the 2-hour trip to Duke Children's once a week for his infusion as part of a clinical trial led by Dr. Smith.  Because of the care that he receives at Duke Children's, Creed can run, jump, and even play baseball.
Since the partnership with Publix and Children's Miracle Network Hospitals began in 1992, our combined efforts have raised over $52 million dollars. The money raised by our Publix stores stays local, that means the funds raised will directly impact children's lives in our OWN communities. These donations can help your family, friends and neighbors.
Children's Miracle Network Hospitals across North America provide 32 million treatments for
10 million children each year. Publix associates and their generous customers help support 28
Children's Miracle Network Hospitals, all of which are making a difference in the lives of these
children who receive treatment regardless of the extent of their injuries and/or illnesses.